Policy Papers
Nature Protection/Biodiversity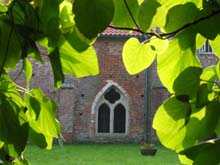 This group aims to promote nature conservation in churches and properties, raise awareness of what churches can do in this field, and lobby for the protection of biodiversity.
As Christians we see the wonders of creation. We praise the Lord as Creator and see ourselves as creatures within other creatures. So the background of our work should be creatureliness as a contrast vocabulary with biodiversity. We will try to show practical examples for creation care in our churches as a distribution of churches to the protection of biodiversity.
As a practical approach we collect useful material that focuses on children of different ages and biodiversity/nature protection. Please contribute your material and send us examples of best practice in educating young people about nature protection, creatureliness and biodiversity.
Facilitator
Gudrun Kordecki
Contact
natureprotection

ecen

[dot]

org