Transition Living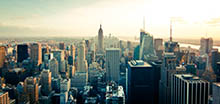 It is now very clear that if human communities and civilisation is to continue into the future it can only happen in a low carbon world, and the transition away from our current dependency on fossil fuels is going to be an immensely challenging but exciting experience. This will be true for our local cities and towns, and also for our churches. Developing Christian ministry in a low-carbon society demands a change in lifestyle – not only in our homes but in our workplaces, community life and congregations.
There is a civil society process initially called 'Transition Towns' (now the 'Transition Movement – TM) which is already pushing ahead with this work at different stages, and in many of our countries across Europe and beyond. In particular, the TM recognises that in future many of our resources will need to be sourced and shared more locally than at present.
ECEN recognises the 'Transition Movement' as a sign of hope to urgently address eco-justice issues, and to grow more local and sustainable communities. We therefore invite our churches to participate with this work.
The ECEN Transition Living thematic group exists to help promote this work and to encourage churches to engage in transition in their own localities and contexts.
Our forthcoming booklet will soon be available and posted on the ECEN website, as well as paper copy.
Facilitator
Antonella Visintin, Martyn Goss
Contact
transform

ecen

[dot]

org